Australian National Herbarium (Program HC)
Communications and Outreach (Program HD)
Volunteer Program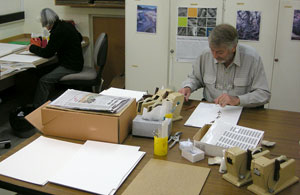 The Australian National Herbarium offers the opportunity for people to carry out a range of activities as volunteers. Most of the mounting of herbarium specimens is undertaken by volunteers, freeing the scientific and technical staff to undertake a range of activities requiring more specialised knowledge and training.
Members of the Canberra community with an interest in the Australian flora, spend half a day to one day a week preparing plant specimens for storage in the Australian National Herbarium. Volunteers have the option of participating in the Vascular ("flowering plant") Herbarium (located at the Centre for Plant Biodiversity Research on the slopes of Black Mountain) or the Non-Vascular ("non-flowering plant") Herbarium (located at the Australian National Botanic Gardens).
The Volunteer Specimen Mounting Program has been running for over a decade and has been most beneficial to the Herbarium and, we feel, also beneficial to the participants, many of whom have been with us since the beginning. All Volunteers are covered by insurance and protection against workplace risks.
If you are interested in becoming involved in the Volunteer Mounting Program or would just like to find out more about it, please contact:
Natalie Aked on 6246 5127 or 6246 5511.