Communications and Outreach (HD)
Herbarium Tours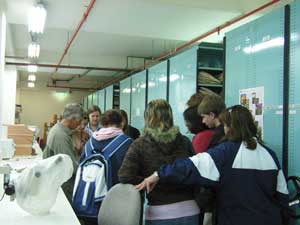 The Australian National Herbarium (ANH) as part of the Centre for Australian National Biodiversity Research (CANBR) has over the years run many tours and public lectures. The herbarium collection is generally closed to the public, however occasional open days provide an opportunity to speak to our botanical staff and take a behind the scenes look at the herbarium collection. Open days are generally held in conjunction with large scientific promotional events such as Science Festival.
Guided tours are run for community groups, societies and tertiary educational institutions. These tours are focused on showing groups how a herbarium collection operates, the importance of herbarium specimens and botanical information. Over the past few years a range of tours have been arranged, presenting the work of the Centre to a diverse range of visitors including groups of TAFE, CIT and University students, University of the Third Age (U3A) elderly students, ANPS, ANBG Friends and Guides, Australian Society of Archivists, CSIRO executives, govt/ministerial officials and international visitors.
For more information about herbarium tours please contact:
Murray Fagg on 02 - 6250 9530.