Leptospermum epacridoideum family MYRTACEAE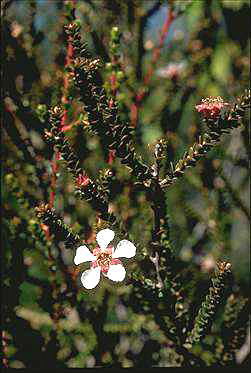 Rounded shrub to 2 m high by 2 m across with small round leaves, 3 mm in diameter. White flowers, 12 mm in diameter, occur in early summer.
Distribution: NSW.
Propagation From seed or cuttings.
Cultivation See note on genus. Hardy shrub. Flowers and fruits stand out well against small dark leaves. Useful shrub for beachside gardens as well as tablelands.
Suitable for heavy shade.
Frost-hardy. (Plants given an this rating will tolerate frosts to -7°C in conditions of normal rainfall.)
Has attractive fruits.
Resistant to salt spray.
Conservation Status: 2RC-
---
text from 'AUSTRALIAN NATIVE PLANTS, 4th ed'
by Wrigley & Fagg, Reed Books, 1996
---